Dowry Deaths in India
October 16, 2012 in Community News, Email Newsletter, Values & Culture Clash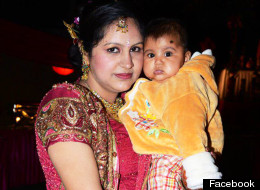 It is unfortunate we still hear of the dowry deaths in India. There may be many reasons besides dowry for these drastic mishaps, but as Indians we can't ignore the tragedy and the impact it will have on the perception about Indians across the world.
Pravartika Gupta set on fire with her daughter by her husband and mother-in-law: Source Huffington Post
An Indian woman and her 13-month-old daughter were allegedly set on fire by her husband and her in-laws over a dowry payment dispute ten days ago, the Times Of India reports.
Pravartika Gupta, 25, succumbed to her injuries and died at a New Delhi hospital on Sunday. Her daughter, Idika, is reportedly fighting for her life after suffering 55 per cent burns on her face and body. The Times of India adds that the baby's condition is "critical."
According to the Hindustan Times, Gupta's mother-in-law Sushma has been arrested. However, the woman's husband, Ashutosh, and father-in-law, Ram Mohan Gupta, are "evading arrest."
The newspaper adds that Gupta's father alleges that the woman's in-laws were "torturing her mentally and physically" over a dowry demand of several thousand dollars.
The woman's relatives also claim that Ashutosh and his father had been angry with Gupta "not only because their dowry demands had not been met, but also because they had wanted their first child to be a son."
The couple married two years ago, the Times of India reports.
The Telegraph writes that Gupta's case has "shocked" India — a country where more than 8,000 women are reportedly killed every year because "their husbands' and in-laws' demands for lavish dowry payments are not met."
See rest of the details on http://www.huffingtonpost.com/2012/10/16/gupta-pravartika-baby-set-on-fire-dowry-dispute_n_1970957.html