You are browsing the archive for India American Cultural Association (IACA).
July 5, 2014 in Headlines, IACA News, Upcoming Events, Values & Culture Clash

To know more about Beauty Pageant: Click Here
For registration: <!a href="http://iacaatl.org/doc/Miss_Teen_and_Miss_India_GA_pageant_2014_application_form.docx">
Click Here
For Tickets:
Click Here
Please contact Kaushal Tripathi at 404-317-5474
Comments Off
January 11, 2014 in Community News, Email Newsletter, Regional Flavors, Values & Culture Clash

Sankranti (the day Sun enters the constellation of Makara, Capricorn Zodiac), in the month of Makara is celebrated as an auspicious day and the beginning of the Uttarayana Punyakala. In South India it is celebrated as the Harvest festival Pongal, where special Pongal dish is cooked. Sweets, sugarcane, sesame seed, coconut mixture is shared with friends and families. It is a joyous time for young moms and kids to dress up and meet all the relatives and friends.
Wish you all very Happy Sankranti and Pongal! Pongal or Sakranti event is celebrated by Indian associations and at homes across USA.
Significance and symbolism of the festival: by Jayaram Yeradanemane from Detroit
Read the rest of this entry →
August 16, 2013 in Community News, Email Newsletter, IACA News, Values & Culture Clash
This is a special invite to you and your families for our 2nd day of annual Independence day celebration at Gwinnett Center. Only $2 for admission. Listen to Anna and be part of the revolution to rid India from the evils of corruption


February 18, 2013 in Community Debate, Community News, Email Newsletter, New Comer Connection, Values & Culture Clash
We have some of the best health professionals in our community yet we see more and more Indian people particularly the new immigrants smoke and cause damage to themselves and to their families. I am not sure if it is for stress or for fashion.

Many of us know about Dr. Deepak Chopra. He is listed as one of the top 100 heroes of the 20th century by Time magazine. One time I had the chance to listen to his live speech. During the speech he mentioned how he used to get stressed out in his job as a practicing medical doctor and as the head of the Boston Regional Medical Center. Dr. Chopra had the habit of smoking one or more cigarette packs a day. The course of his life got changed when he stumbled upon transcendental meditation and the rest is history. I am not sure what leads people to these habits, but not every one is like Dr. Deepak Chopra to give up the habit. If you or one of your loved ones is a victim of this habit, you need to get serious. There are all kinds of help from the State and from the community. I am associated with various state ad campaigns, the most I like is the Fulton County Smokefree coalition ad message. Our community should benefit from the advise of our concerned health experts and the resources made available to them by taxpayer dollars.
Please see this article from our Health Promotion Program Manager of Fulton County Board of Health, Dr. Nazeera Dawood. She explains the need for a regiment in helping people quit smoking. It is based on her all round experience in clinical practice, health research, smoking cessation programs and policy development.

My life has been with learning experiences from several perspectives of the medical industry. Even though the experience has helped me conceptualize clinical medicine, public health and research perspectives on the deadliest voluntary behavior, I never understood the urge to smoke. Maybe it's because I come from a non-smoking family where we always identified smoking as a risky behavior. It has always puzzled me as to why someone would want to smoke something that contains more than 4000 noxious chemicals.
When I practiced medicine in India, the patients who continued to smoke despite all sorts of cessation approaches, frustrated me. I felt I wasn't doing something right. Surely there must be some way I could help them help themselves.
So when I entered the academic clinical research sector at Emory University, I was eager to join a team investigating smoking and health. One of our studies, that included patients from the Grady Health System, found that six months after suffering from a heart attack, more than half of patients continue to smoke. I was shocked. Not even a heart attack could compel them to change their behavior.
Most surprisingly, the same study revealed that cessation programs work much better than health care professionals telling patients to quit. This does not mean that physicians should stop advising patients to stop smoking. It means we need both: physicians should keep offering advice plus they need to refer patients to smoking cessation programs. In other words, patients need a regiment, not just a reminder.
My solution to the needs of the Georgia patients seemed simple. After wrapping up the study, I advocated for a smoking cessation program within the Grady Health System. The only glitch: I was immediately told that I went out of bounds. Apparently, my role as a clinical researcher is limited to the data. I had to hope that someone else would take the ball and ran with it.
As luck would have it, I got the opportunity to do exactly what I wanted when I became a public health professional in Georgia. In my new role, away from number-crunching and into the community, I tried to do what health officials should do: change the social climate and promote a supportive environment. I pushed for smoke-free zones and other policies to protect individuals from second hand smoke exposure. But even this community-based approach, alone, isn't enough.
By now, I had seen each perspective working in different angles. The doctor's perspective — the individual approach. The research perspective—the quantitative approach. The public health perspective—regulations. The problem as I realized was the splintering of duties and not enough interdisciplinary work. We have worked on siloed approach for years and we still seem to have smokers.
And it's not just the smokers. There is no denying that second-hand smoke causes cancers, heart disease, asthma, and other diseases. The CDC estimates second-hand smoke causes 46,000 heart disease deaths and 3,400 lung cancer deaths among American non-smokers each year.
Now is the time to take a synergized approach involving the entire community, and by that I mean physicians, public health professionals, businesses, researchers, smokers and non-smokers.
Only when we get everyone on the playing field, can we finally get the home-run we all need: Fewer people smoke, fewer people sick from second-hand smoke and improved public health for the whole community.
Resources:
• http://archinte.jamanetwork.com/article.aspx?articleid=414515
• http://www.cdc.gov/tobacco/osh/index.htm
• http://www.breatheeasyfulton.org
• Free Nicotine Replacement Therapy for Uninsured Adults in Georgia
by Kaushal
October 16, 2012 in Community News, Email Newsletter, Values & Culture Clash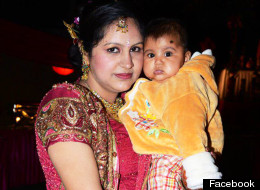 It is unfortunate we still hear of the dowry deaths in India. There may be many reasons besides dowry for these drastic mishaps, but as Indians we can't ignore the tragedy and the impact it will have on the perception about Indians across the world.
Pravartika Gupta set on fire with her daughter by her husband and mother-in-law: Source Huffington Post
An Indian woman and her 13-month-old daughter were allegedly set on fire by her husband and her in-laws over a dowry payment dispute ten days ago, the Times Of India reports.
Pravartika Gupta, 25, succumbed to her injuries and died at a New Delhi hospital on Sunday. Her daughter, Idika, is reportedly fighting for her life after suffering 55 per cent burns on her face and body. The Times of India adds that the baby's condition is "critical."
According to the Hindustan Times, Gupta's mother-in-law Sushma has been arrested. However, the woman's husband, Ashutosh, and father-in-law, Ram Mohan Gupta, are "evading arrest."
The newspaper adds that Gupta's father alleges that the woman's in-laws were "torturing her mentally and physically" over a dowry demand of several thousand dollars.
The woman's relatives also claim that Ashutosh and his father had been angry with Gupta "not only because their dowry demands had not been met, but also because they had wanted their first child to be a son."
The couple married two years ago, the Times of India reports.
The Telegraph writes that Gupta's case has "shocked" India — a country where more than 8,000 women are reportedly killed every year because "their husbands' and in-laws' demands for lavish dowry payments are not met."
See rest of the details on http://www.huffingtonpost.com/2012/10/16/gupta-pravartika-baby-set-on-fire-dowry-dispute_n_1970957.html
September 12, 2012 in Community News, Drama, Email Newsletter, IACA News, Music, Values & Culture Clash
IACA is supporting this great cause in uplifting the rural and tribal poor students of India by joining hands with Aim For Seva, a non-profit organization that runs 93 charitable student homes in 14 states. Each student home provides the right environment for studies and reduces drop out rates in schools. Value based education is the greatest equalizer in breaking the cycle of poverty and ignorance among millions of rural poor who are deprived of the opportunities.
Do your part and come to Dance Drama performance "Nayani" featuring multi-talented actress Rukmini Vijayakumar at Southern Polytechnic Auditorium, Marietta GA on 14th October 2012.
Note: IACA members will receive $5 special discount on all tickets and up to 20 tickets of $15 denomination.
August 26, 2012 in Community Debate, Community News, Email Newsletter, IACA News, Values & Culture Clash
Check out this lively discussion as part of the youth forum seminar at the recently concluded Festival of India. You may have to connect to TV and increase the VOLUME.
The discussion touched various topics from parenting to career choices and how to bridge the cultural gap between first and second generation Indians. This discussion does not end here. Join this site as a user and as a Youth Member Group and post your comments or articles that are relevant to this topic.
August 24, 2012 in Community Debate, Community News, Email Newsletter, IACA News, Values & Culture Clash
Don't miss the Youth Forum between 3PM – 4 PM at Gwinnett Center tomorrow
We made an effort to come from third world to the first world. This land of milk and honey comes as a package deal with the good, the bad and the ugly. Learn all about what our younger generation think of growing up in America, opportunities they have, challenges they face at home and with the upcoming global competition. Participate in a lively discussion on the cultural divide between the first and second generation Indians and how to bridge them together.
The forum panel includes many second generation Indians including –
1) Dr. Anuj Manocha – Distinguished Internal Medicine Doctor. Very active at IASF and community events
2) Dr. Suvrat Bhargave – Distinguished Psychiatrist, a role model to kids & a popular MC. Very active in the community
3) Sarung Tripathi, a budding Industrial Engineer from reputed Georgia Institue of Technology. Very active in the community
4) Chetan Hebbale, a freshman at UGA and the top seed national debater among all US Asian High School Seniors in 2012
5) Navneet Singh Narula – Accomplished Consultant, Recipient Lifetime Presidential Service Medal by President Obama
Topic:
This hour-long event, branded "Bridging the Gap between First and Second Generation Indian-Americans," will be a panel discussion with questions coming from both panel members as well as the audience.
The Questions:
1. Why are older generations reluctant to let children go into anything but medicine/engineering? How should youth handle these pressures?
2. Should Indian parents be as open to dating at young ages as western people are?
3. Why don't traditional Indians encourage their kids to engage in extracurricular? Should they?
4. How does the Dharun Ravi incident reflect upon Indian-Americans?
5. Would it be easier for young Indian children to perform with their natural drive, instead of being pushed by Indian parents?
6. Are you embarrassed to show your Indian culture at your school/around friends?
7. How should we eradicate ignorance toward south Asians in the United States? (More directed toward hate crimes such as Oak Creek, etc.)
This will be a great opportunity for us to all discuss the challenges of being Indian in the United States from the perspectives of both parents as well as kids. Your suggestions are welcome